Tattoos are very common amongst our celebrities. Almost everyone is doning one nowadays. Their selection of the design symbolizes either a person they are close to, or something which describes their personalities to the fullest. Lets find out what our favorite actors are flaunting….
Priyanka Chopra– Dedicated to her father, the tattoo says 'Daddy's Lil Girl'. This Tattoo on her side wrist shows her affection and love for her dad.

Alia Bhatt– Her 'Pataka' Tattoo in Hindi has become very famous. A short and naughty version is bubbly and chirpy just like her.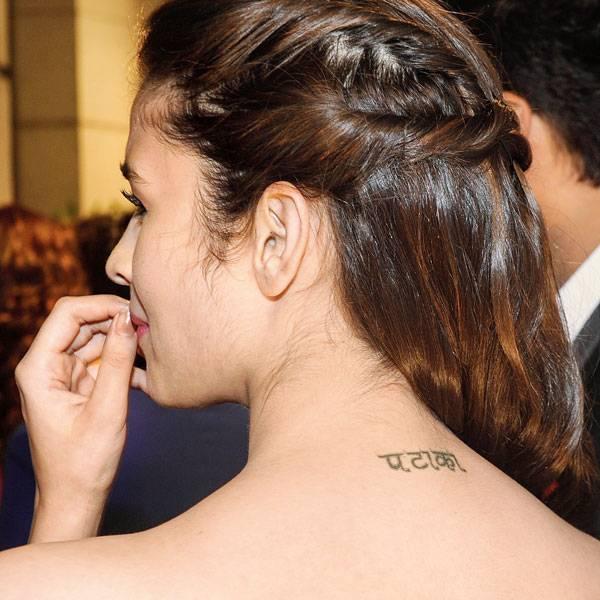 Kangana Ranaut– A Tattoo of warrior angel on her nape of the neck according to her describes her personality completely. She is a fighter and never gives up and this is what her tattoo describes about her.

Deepika Padukone– Her Tattoo which says RK is dedicated to her love interest. Its a clean sweet and simple design. She has one more at the ankle which says DP, and that is her own name.


Isha Deol– Doning one tatoo of OM at one shoulder and Gayathri Mantra on the other, is her spiritual connect. Her tatoos are in Hindi and are very Indian in design.

Celina Jaitley– She has name of her husband Peter inscribed on her ring finger. A sweet idea for getting inked for someone special.

Shilpa Shetty– She has a sign of swastika inscribed on her hand.

Sonashi Sinha– She has a very small and simple design as her first Tattoo. A small star shaped tattoo on her neck is her choice.

Katrina Kaif– A Tattoo on her back is bold and a little complicated, but clean though.

Image Reference: Blog.tattoodo.com, Buzzfeed.com, Scoopwhoop.com, Sheknowsit.com, Indianroots.com, Imt-iss.com, Saharasamay.com, Indianexpress.com, Bollywoodlife.com