Can conventions ever capture the modern woman's spirit? Femininity is as bold as it is gentle. And shouldn't a woman's personal style act as the doorway to her being? For flamboyant ladies, any and every fashion piece can become a means to express their spunky selves. But owning certain key staples always goes a long way in creating a wardrobe that reflects your personal style. Here is a list of five sartorial items every flamboyant fashionista should stock in her wardrobe.
Boot-cut Jeans
Traditional denims may be timeless, but nothing says flamboyance like boot-cut jeans with that chic flare. The popular 90s cowboy style is making a comeback and how! Slim through the hip, the boot-cut opening at the bottom is what adds a whole lot of drama to your ensemble. Pair these jeans with a trendy tunic top and peep-toes or a frock top with exaggerated bell-sleeves and wedges. Want a slightly different take? Don your boot-cut jeans with the classic turtle-neck top, throw on your ankle boots and be the talk of the town every single time you step out.
Quirky Tops
To make an eye-catching statement, ditch the ol' solid t-shirts and blouses and switch to a wardrobe full of quirky tops. Stock it with dramatic graphic tees, retro blouses with contrasting polka dot peter pan collars, Vintage flounce sleeves and a lot of ruffles. Such tees and tops will team well with not only jeans but also culottes, dungarees and solid colour skirts. For instance, an ordinary laid-back style can be effortlessly spruced up with a bizarre graphic tee.

Over-the-top Heels
Catherine de Medici's constructive use of these babies back then has definitely come a long way and thankfully so! For the exuberant woman, owning a pair of over-the-top heels is a must. Yet, everyone's definition of "over-the-top" may differ. To some, a large bow or feather-affixed peep-toes may be the epitome of flamboyant display whereas there could be others for whom nothing short of Gherardo Felloni's workmanship may suffice. Notwithstanding personal preferences, gem-studded, vividly bright, feather-affixed heels are sure to spice up the most staid of outfits.
Boho-Chic Dresses
Minimalism may be the latest fad but every once in a while, it doesn't hurt to be the showstopper, especially when you're a bold fashionista. A one-piece dress with a lot of drama – glittering sequins, exaggerated sleeves, metallic colour, tiered hemline – is perfect for standing out from the crowd. Such elaborate dresses can be easily paired with geometric accessories, neutral-hued footwear and a flashy minaudiere. For more casual occasions, a boho-Indie long gown with multi-colour embroidery paired with Roman sandals and a hobo bag will give you a relaxed, chic vibe.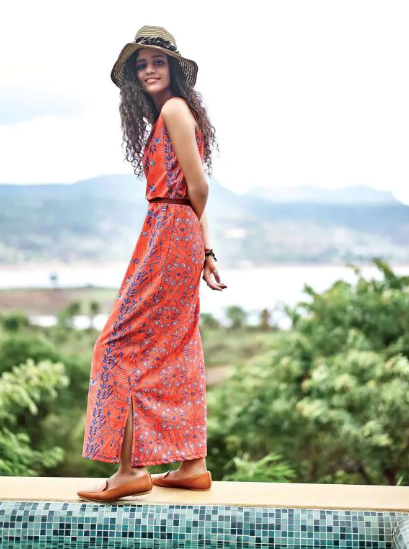 Over-the-knee Boots
To all our petite boldies out there, this beauty is sure to give you the feel and look of super-elongated proportions. There is a myriad of options to choose from – classic pointed heels or block heels or even flat ones; leather or suede. Over-the-knee boots are also available in a wide range of colours but in line with your bold persona, go for either the red or laced-up ones as they are sure to zing up the whole look. Over-the-knee boots make an ideal match with either skinny jeans or miniskirts as these outfits allow them to be flaunted in all their glory. The easiest way to be the toast of the town!
So introduce these items to your wardrobe and become the flamboyant fashionista who paints the town red with her verve!